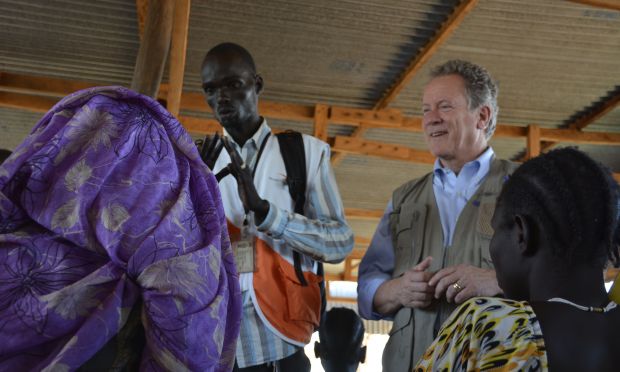 The new Executive Director for World Food Programme (WFP), Mr. David Beasley, recently visited World Vision's food distribution beneficiaries at a Protection of Civilian Site (PoC) in Juba. Mr. Beasley also visited former Unity State, one of the areas in South Sudan worst hit by the current famine and hunger crisis. This visit underscored the call for peace, access and funding to ensure food assistance and livelihood interventions can reach those enduring famine and hunger.
Mr. Beasley—noting that he had been in South Sudan for the independence celebrations in 2011—said the South Sudanese hunger crisis is entirely the result of a man-made conflict, which has created "deplorable" suffering for the country's people.
The PoC is one of the settlements to which civilians are escaping conflict to seek refuge. The Juba PoC 3 is home to 31,000 people to whom World Vision and WFP have been providing life-saving food rations and cash transfers to the displaced population in this sprawling camp since 2013.
Food distribution is done on a monthly basis and rations per person consist of 15 kilos of cereals, 0.9 litres of vegetable oil, and 0.15 kilo of salt and currently includes vouchers for 1.5 kilos of pulses, which are redeemed with traders who have set up shop within the PoC.
At the PoC, Mr. Beasley got an opportunity to have one-on-one discussions with the beneficiaries. Mary, 27 and a mother of three, explained the difficulties people at the PoC are facing. "We are always at risk because we need to go out of the PoC to collect firewood, which we sell to buy daily necessities such as soap, clothes and other needs. This exposes particularly women to threats such as rape," she said.
Since the conflict in South Sudan started in December 2013, 3.6 million people have been displaced from their homes. 1.7 million of these are refugees who have fled to neighbouring countries, like Uganda, where World Vision is serving 522,949 refugees in Adjumani, Moyo, Yumbe, Arua and Koboko districts with food assistance alone. Additionally, some 1.9 million persons are internally displaced across South Sudan.
Famine was officially declared in parts of former Unity State in February, 2017; this is the first famine to be declared anywhere in the world since Somalia was afflicted in 2011. About 100,000 people are starving and one million more are on the brink. World Vision believes that Famine is the end point of a global protection crisis. To ensure those suffering the effects of famine are not left behind, World Vision recommends protecting children from hunger, violence and addressing the underlying drivers of hunger.
In addition, 5.5 million people are severely food insecure—about 47 per cent of the population— a number that could rise as the "lean season" peaks in July.
This is the highest level of hunger since the conflict in South Sudan began three-and-a-half years ago. Conflict, resulting in displacements, and compounded by an economic crisis has pushed hundreds of thousands to the brink of survival.
"Saving lives is a top priority for World Vision and we are pleased to be one of WFP's lead partners as we work towards providing critical support to those in need. However, for this assistance to be sustainable, there needs to be lasting peace," said Eric Yunusu, World Vision's Food Assistance Programme Manager.
World Vision is WFP's largest implementing partner and is distributing 38,000 metric tonnes of food to close to a million people in need of food assistance in various parts of South Sudan.