To improve child well-being, World Vision's strategy is aimed at building foundational livelihood assets, improving livelihood strategies, protecting lives and livelihoods and assessing the context and risk to lives and livelihoods. As such this strategy combines both quick wins for short-term impact concurrently with systemic change for long-term sustainability.
World Vision also supports evidence based practice through food and livelihood security operational research. Operational research will measure the benefits attributable to our work and the value for money that these approaches represent to community and donors.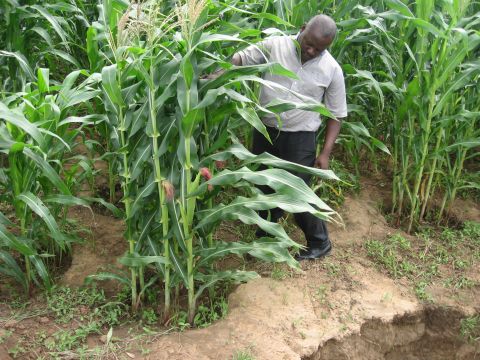 AREAS OF OUR WORK
Agriculture and Food Security: World Vision's strategy is to restore the resilience and productivity of agricultural landscapes by encouraging the adoption of simple agricultural practices like Farmer Managed Natural Regeneration (FMNR and Conservation Agriculture (CA) that help people to take better care of the land, improve soil fertility and water holding capacity and make the land more resilient to drought.
Disaster Risk Reduction (DRR) and Community Resilience: World Vision believes that it is important to carry out development practice in a way that builds long term resilience and reduces the risk of disasters. Building long term resilience requires an integrated approach to strengthening livelihood assets and strategies that addresses the underlying causes of disasters.
Economic Development: World Vision's economic development work engages government, market and community actors to improve families' economic well-being so that they can spend more on healthcare, education, food, nutrition, etc. for their children. We do this, for example, by assisting entrepreneurs access new markets, helping communities form their own savings and loan groups, and preparing adolescents and youth for economic opportunities.
Natural Environment and Climate Issues: World Vision's focus is to build the physical and economic drivers and foundations of families' livelihoods and resilience through addressing natural resource management and the causes and effects of climate change.
World Vision also collaborates with Vision Fund International on micro-finance issues as a key component of our strategy to improve livelihoods and well-being.