World Vision International's approach to accountability is based on its Christian identity, calling us to be good stewards of what the Lord entrusts to the organisation. As a Christian and child-focused organisation, we are moved by our commitment to positively impact the lives of children and their communities. This calls us to make the best use of the resources we receive from our donors, to monitor our performance, and to report our achievements and challenges with honesty and transparency. Our strong commitment to good accountability practices calls each one of World Vision's entities to continuously ask themselves the following five strategic questions as we work towards the well-being of children:
To whom are we accountable?
What have we committed ourselves to do?
How are we doing? And how do we know?
How transparent are we in our reporting?
How and when do we contribute to and participate in initiatives to enhance the accountability of the sector/industry?
In this spirit, World Vision adopted the following common definition of accountability -
Accountability is the commitment of an individual or organisation to:
i. account for its activities and promises made,
ii. provide information, listen and empower its diverse stakeholders to actively participate and hold to account,
iii. accept responsibility for its decisions, and
iv. disclose the results in a transparent manner.
It also includes the responsibility for money or other entrusted properties to be used in the most efficient and responsible manner possible.

We are an accountable organisation to God, to children, communities, sponsors, donors, and partners. We are an organisation committed to positive change in the lives of the most vulnerable children - as highlighted in this video:
Accountability is one of World Vision's four partnership principles, an essential ingredient in achieving the over-arching Child Well-being Aspirations, Outcomes and Targets.
World Vision International is a Member of Accountable Now, a platform of international civil society organisations. Together, we strive to be transparent, responsive to stakeholders and focused on delivering impact. We have signed ten globally-agreed-upon Accountability Commitments and seek to respect human rights, be independent and work ethically and professionally.
Annually, we report publicly on our economic, environmental and social performance according to the Accountable Now Reporting Guidelines to an Independent Review Panel. After review of the 2014 report and in recognition of the progress World Vision has made in meeting the Accountability Commitments, World Vision has been moved to submit a detailed accountability report once every two years with a short interim report in-between years. These reports are published both on the Accountable Now and WV Accountability websites.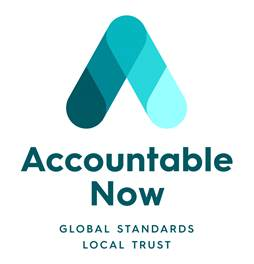 For more information about accountability at World Vision, please contact:
Mr. Elie Gasagara, Partnership Leader for Global Accountability
World Vision International
East Africa Regional Office
P.O. Box 133-00502
Karen Road, Nairobi, Kenya