World Vision Afghanistan and Health
When premature babies were often sent home with their mothers just hours after birth, World Vision in Afghanistan established the first neonatal unit in the maternity ward of Herat regional hospital in August 2005. The establishment of the neonatal unit paved the way for saving the lives of more neonates, improved newborn services in the Maternity Ward and provided an environment for midwifery students to practice their skills responding to the standards of quality midwifery care.
Since 2004, World Vision (WV) has trained more than 300 midwives to care for pregnant women and their unborn children before, during, and after birth. Access to skilled birth attendants has helped to reduce maternal and infant mortality rates in western Afghanistan.
WV Afghanistan with collaboration of Afghan Ministry of Health (MOH) set up the first ever clinic of Sexually Transmitted Infections (STIs) at the Herat Regional Hospital at 2003. World Vision supported the Ministry of Health to provide curative, treatment and prevention support to patients presenting at the STI clinic in the Herat Hospital. In late 2004/2005 World Vision expanded the program to include HIV/AIDS voluntary counselling and testing, a community education program and increase the access to available treatment services in Herat Province.
World vision started its first WASH project in June 2005 in response to urgent need of communities effected by drought in Badghis province, by improving access to drinking water through increasing the water storage capacity and provision of hygiene education to beneficiary communities. To date, more than 2000 ventilated improved pit latrine has been constructed which increased the access of families to improved sanitation facility. To reduce the incidence of water borne diseases and diarrhea cases, the WASH projects have distributed PUR sachets, dig depth wells and conducted hygiene and sanitation training in targeted communities.
By supporting the Ministry of Health's goal to implement the full Basic Package of Health Services (BPHS), World Vision through maternal and child health projects has improved the community-based health system, specifically targeting the health status of women of reproductive age and children under 5 through strengthening the quality, availability and access to primary health care services in targeted areas.
World Vision has worked with families, communities and healthcare workers in homes, health posts, clinics and hospitals to promote basic health, well-being and survival, particularly for children younger than five and for women of childbearing age
Coupled with this effort, World Vision has also trained hundreds of community health workers (CHW), Family Health Action groups (FHAG), Home Base Life Skill Saving (HBLLS) and WASH groups to inform and promote other areas that affect health, such as proper nutrition, access to clean water and the importance of latrines among other things, in communities.
World Vision has provided training to hundreds of health professionals including doctors, nurses, community midwives and health workers, enabling them to inform and promote practices in communities that improve health, such as proper nutrition, access to clean water and the importance of latrines.
WVA also plays a leading role in mother-child health, and nutrition care in our three targeted provinces (Herat, Ghor and Badghis). In communities where there is high prevalence of underweight children, World Vision implements Positive Deviant Hearth (PD Hearth) approach to rehabilitate malnourished children and address chronic malnutrition.
Facts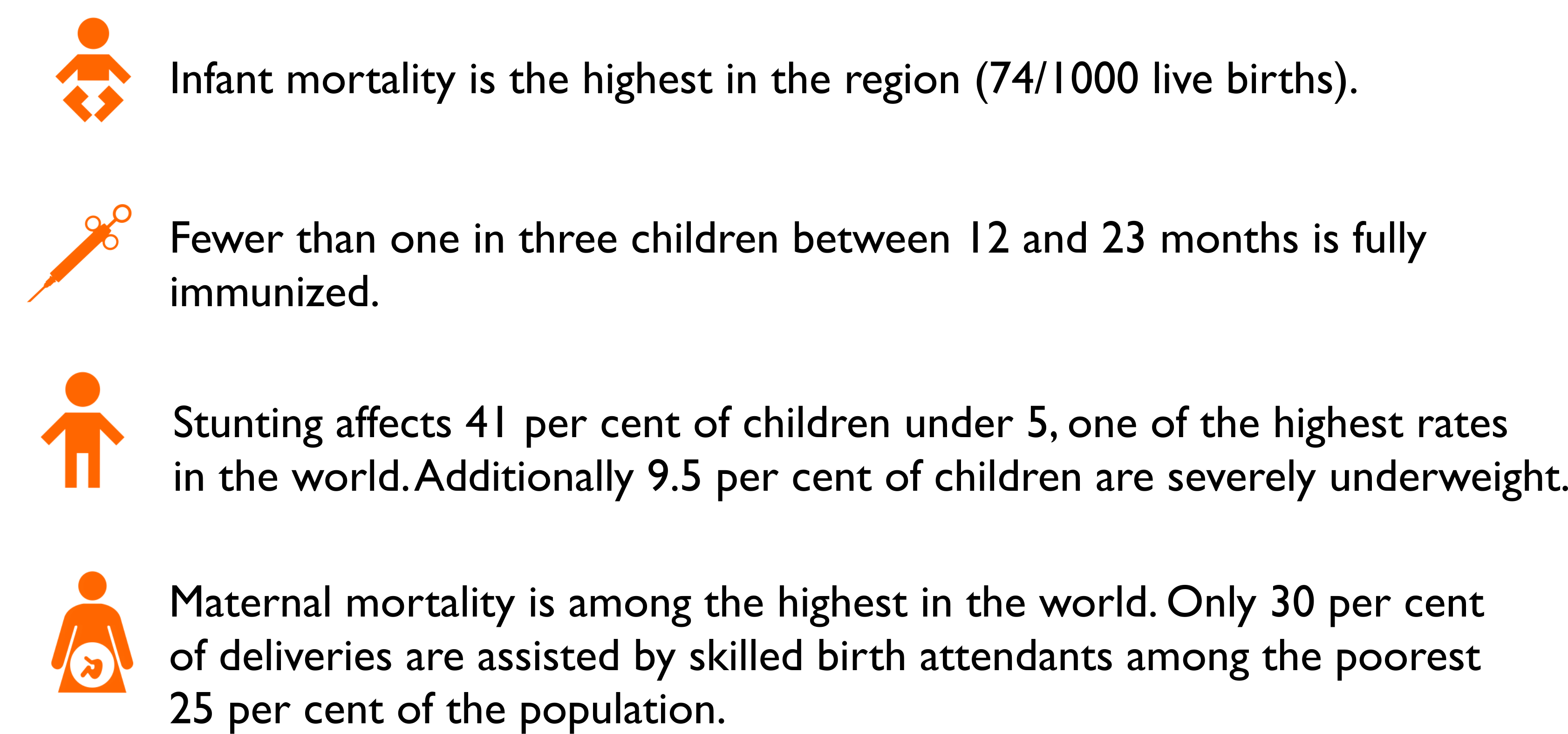 Our Goal
To improve Maternal Child Health and Nutrition of vulnerable children and mothers who doesn't have access to basic health cares.
We do this through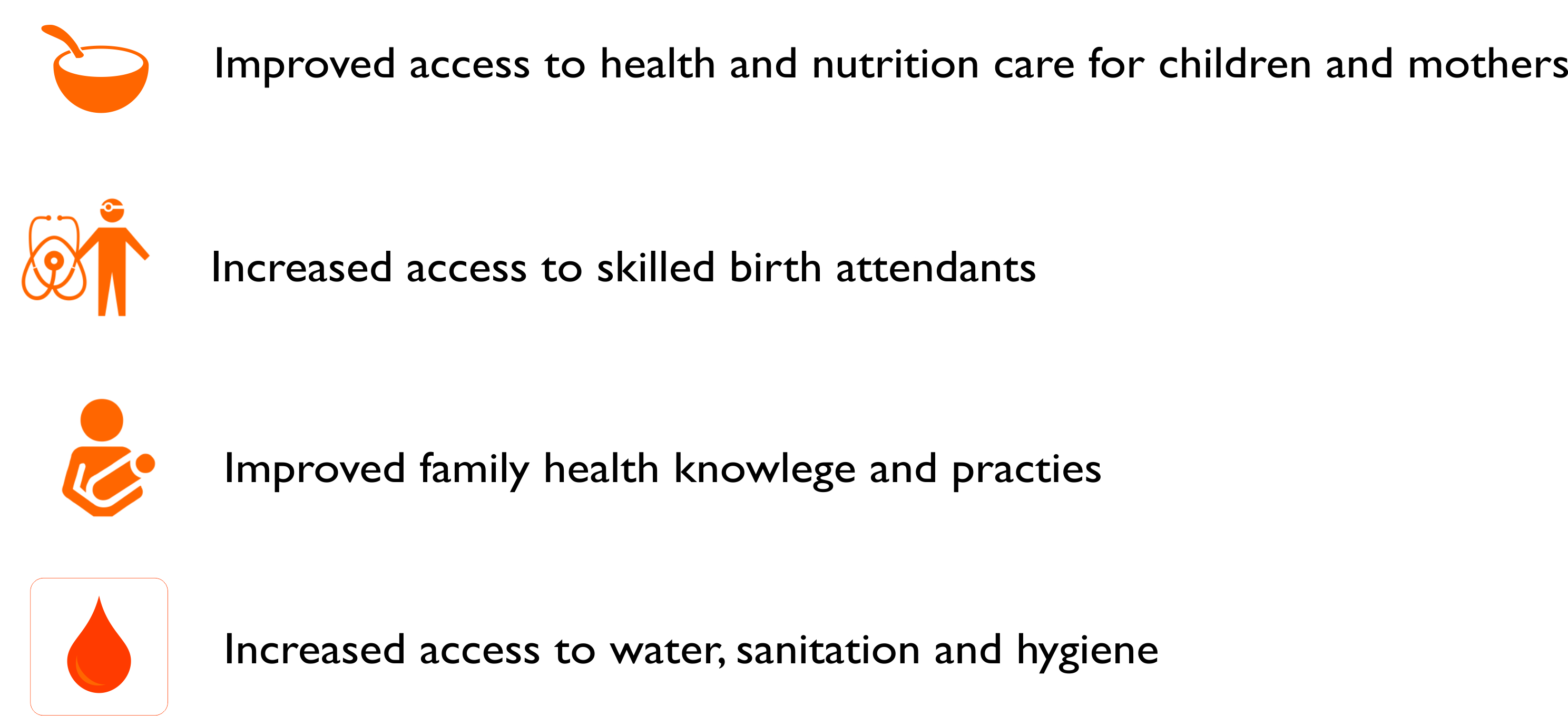 We achieve this by:
Neonatal mortality will be addressed through increased access to skilled birth attendants and refresher courses for midwives and nurses. Pneumonia and diarrhea will be addressed through improved health knowledge and practices, increased access to health services, and WASH activities, especially safe drinking water and construction of improved ventilated pit latrines. WASH will be an area of particular focus and expansion in the coming strategy period.
Malnutrition and poor health have lasting impacts on children, especially those that have heightened vulnerability brought on by a fragile context such as Afghanistan. To combat malnutrition at the community level WV Afghanistan will focus on promotion of Infant and Young Child Feeding practices, Timed Targeted Counseling, and Community Growth Monitoring and Promotion (CGMP). At the health facility level WV will expand the coverage of Baby Friendly Hospital Initiative (BFHI), Integrated Management of Acute Malnutrition (IMAM) and Growth Monitoring Promotion (GMP). Nutrition will also be addressed in close cooperation with the livelihoods sector, drawing on studies showing the effectiveness of food-based nutrition approaches as well as expanding integrated management of acute malnutrition.
In Afghanistan, WV has pioneered mHealth, using mobile phones to improve health education, report community health data, and enable emergency calls/referrals within remote areas. In the new strategy period WVA will build on our mHealth success and endeavor to scale it up to the national level through collaboration with the MoPH and other partners.
Our main partner:
This will be done in close collaboration with the Ministry of Public Health (MoPH), primarily through skills transfer and influencing health policies and practices, as well as direct community level interventions.