World Vision Afghanistan and livelihoods
A dry-land farming program, which increased crop yields by approximately 60% through distributing 13 varieties of drought-resistant certified wheat to 6000 farmers, providing training on dry-land farming and natural resource management and addressing nutritional deficiencies by successfully introducing soya beans to 900 farmers and the local diet.
A sustainable livelihoods program focused on women that established greenhouses for vegetable cultivation, provided training for 900 women on different cultivation and drip irrigation techniques and established 300 beehives for 100 female-headed households. As a result, women were empowered to earn livelihoods close to their home and reported that this helped to achieve sufficient income to support the education of children, improved self-esteem and greater social acceptance. The beekeeping program improved livelihood opportunities for vulnerable women and also contributed to the local ecology of the provinces, demonstrating innovation. This project also inspired Badghis DAIL to establish an Apiary Department, facilitating WV to provide similar technical assistance for beekeeping initiatives more broadly across the Province.
A fruit tree cultivation program that restored sustainable livelihoods for vulnerable households by establishing nine fruit tree nurseries; training 1232 farmers in fruit cultivation as well as providing 190,000 fruit saplings to 3800 poor farmers.
A pistachio cultivation program which established pistachio tree gardens for 1200 farmers. Farmers had previously believed pistachios only grew in the forests and could not be cultivated.
A natural resource management program which involved planting over 1,000,000 firewood trees and conducting awareness campaigns to discourage people from chopping down pistachio trees for firewood.
An irrigation infrastructure program that supported farmers in drought prone areas to improve water infrastructure and adopt improved water management approaches.
A market access program to complement other agricultural livelihood interventions which established, trained and equipped three agriculture farmer cooperatives and supported 1500 families in Kocha, Sang Atish, and Kondilan valleys.
Facts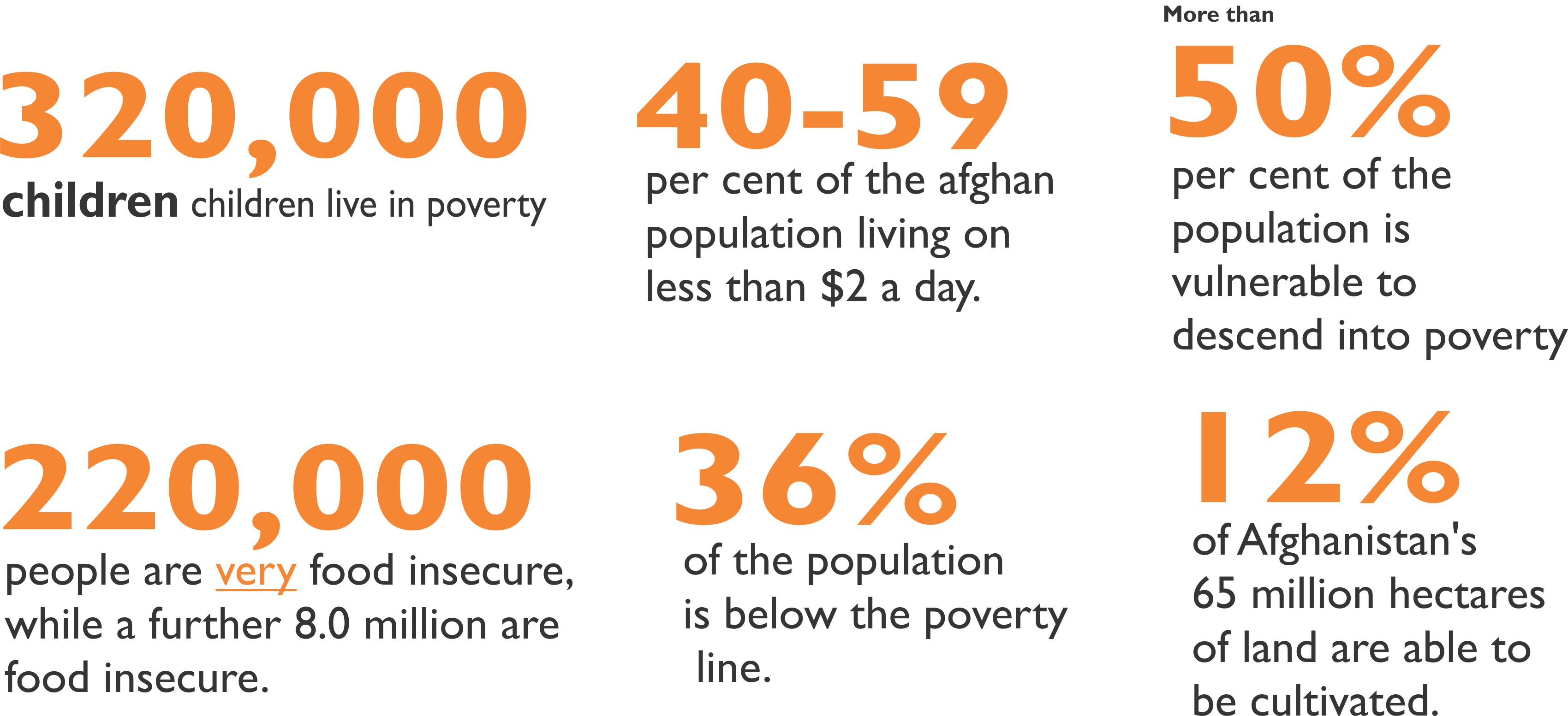 Our goal
To provide households a better livelihood opportunities. World Vision Afghanistan (WVA) works with families to enable them to feed and provide for their children's needs.
We do this through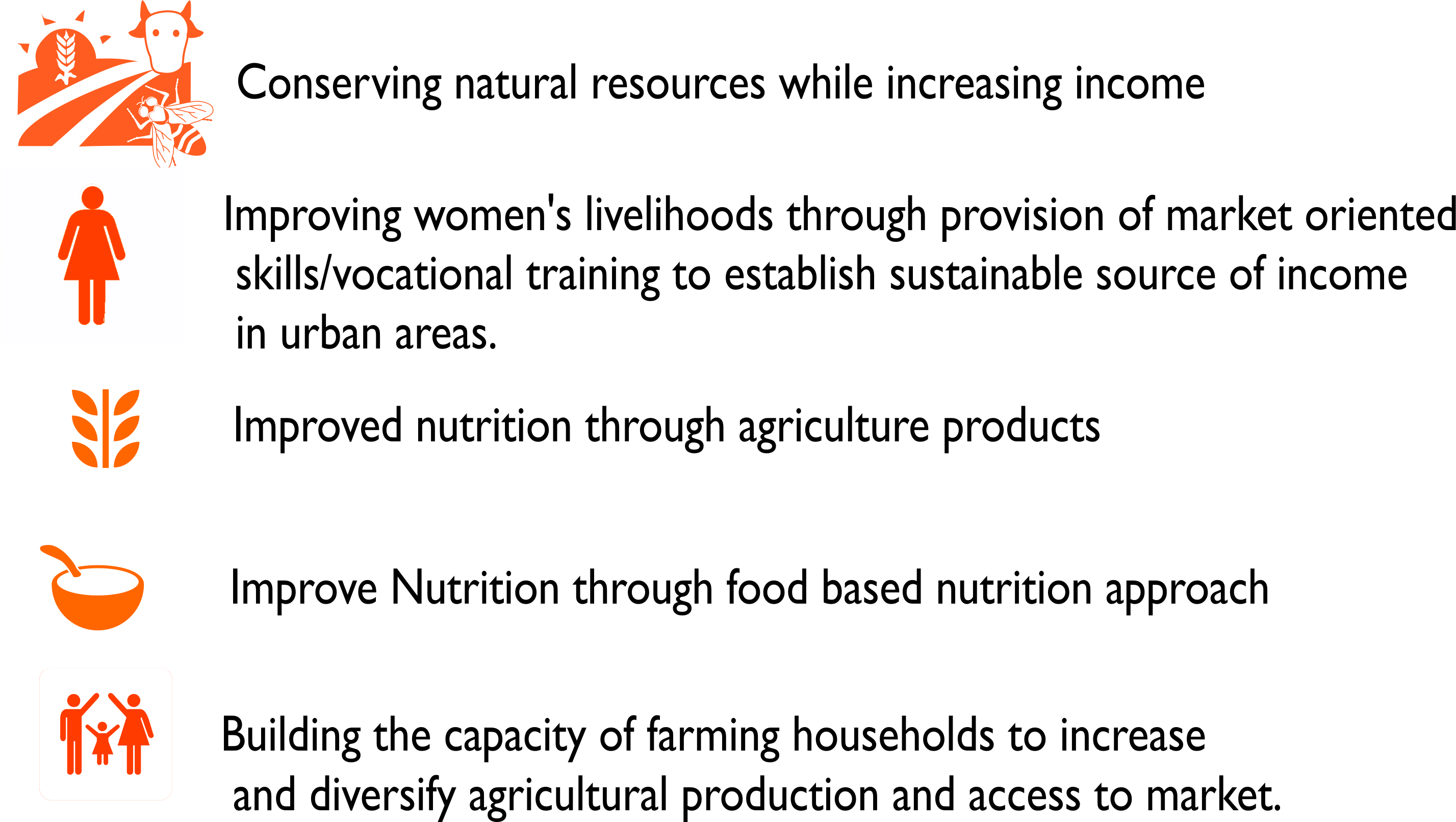 We achieve this by:
WVA is currently implementing four projects that are specific to livelihoods in Badghis and Ghor, mainly focusing upon agriculture. Our largest multi-province health nutrition project also has a livelihoods component. These activities primarily consist of capacity building for farming households to increase and diversify agricultural production, but also include a focus on landless people and those with very limited crop production opportunities such as women headed households.
To improve food security, WVA will work with producers to improve agricultural technologies and practices building on local knowledge to enhance agricultural production. For example, this will be done by improving wheat planting techniques and introducing vaccinations for livestock.
Based on lessons learned from WVA's existing agricultural interventions, a comprehensive market analysis will be conducted to identify feasible and lucrative local market opportunities. The analysis will be undertaken using a gender analysis matrix to highlight the most appropriate opportunities for women to become more engaged in economic activities. Communities will be mobilised into community cooperative producer associations to secure cost effective inputs and undertake post-harvest marketing.
WVA has focused on addressing water shortages as another crucial area of activity to improve food security and water infrastructure for better productive capacity, resilience to disasters and climate change, and hygiene and sanitation. This will build on existing infrastructure by improving the efficiency of irrigation systems through repair of leaky canals, extending systems where sufficient quality water is available and protecting drinking water sources.
WVA will work with producers to introduce food preservation techniques such as sun-drying fruits and vegetables. Simple underground storage structures will also be constructed to support extended storage, diet diversity and increased income for out-of season market sales.
Our main partners
Ministry of Agriculture, Irrigation and Livelihood (MAIL)
Provincial Department of Agriculture, Irrigation and Livelihood(DAIL)
Badghis and Ghor Agriculture High Schools
Shura (village) councils and religious leaders
Afghanistan National Disaster Management Authority (ANDMA)
Department of Rural Rehabilitation and Development (DRRD)