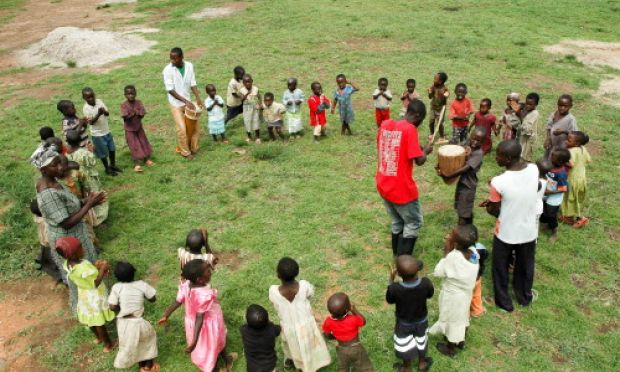 One of World Vision's most well-known innovations—Child Friendly Spaces (CFSs)—have passed the test. Columbia University studies are finding that CFSs help children's psychosocial well-being as compared to that of children who do not attend CFSs. Little research or hard evidence existed prior to the new studies.
Under cover of a white tent—protection from the burning Ugandan sun—young, bright-eyed children are participating in a song and dance routine. Later in the day there will be an energetic football match and opportunities to share stories of their escape from fighting in the Democratic Republic of Congo.
The children are part of a CFS in the Rwamwanja refugee camp in Western Uganda. What are CFSs exactly – and why are they so important to World Vision's work? Heather MacLeod, director, Global Humanitarian Operations – WVI, explains:
"CFSs provide young people with a safe place to play, participate in activities, learn about their rights to health and protection, and experience healing from any trauma they've experienced. They also allow children to return to healthy routines and experience a sense of normalcy again."
"Children are the most vulnerable group during conflict and in the aftermath of a disaster, both emotionally and physically, and we know the long-term impact of their exposure to traumatic events can be huge if not addressed."
Little research until now
However, until recently there had been little research or evidence of the impact of CFS. World Vision and Columbia University are in the process of a series of structured evaluations of CFS programmes.
The first of these field evaluations looked at CFSs in Ethiopia. And last August, World Vision launched a new research report exploring the impact of CFSs amongst Congolese refugees in Uganda. Read the report here.
Significantly, the research finds children who frequently attended CFSs were able to sustain their psychosocial well-being, while children who didn't attend CFSs demonstrated a marked deterioration.
The study also shows when children had access to a CFS, the positive impact on their parents and caregivers was substantial. Over time, parents said their considerable concerns and stresses about how their children were doing, given everything they'd been through, were reduced. CFSs also seem likely to have contributed to children and their families learning how to access vital community support mechanisms—including access to health workers.
"Improved access to community support is critical, as conflict and disasters often mean that children's rights are forgotten, neglected or violated," says Ms MacLeod.