A complex hunger crisis driven by drought, conflict and poor governance has left over 22 million people across East Africa in urgent need of life-saving assistance. More than 3.5 million children are suffering from severe malnutrition, well above globally acceptable rates. In Kenya, South Sudan and Somalia, certain areas of the country have already reached or are approaching famine levels. At the same time, those escaping conflict and hunger crises are increasing dramatically across the region. There are more than 3.3 Million refugees and increasing fragility in the region, exacerbating the need to assist in multiple areas and contexts.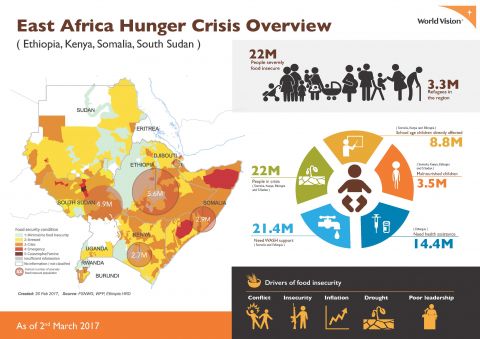 In South Sudan, where nearly 5 million people don't and enough food and more than100,000 people are facing starvation, our need to respond is without question.
In Somalia, World Vision has been responding to address the severe acute needs in areas of displacement and drought stricken states. More than 2.7 million are affected by this crisis — and are still reeling from the ongoing conflict in the country. With more than 2.7 million people reaching crisis stage for food insecurity,
In Kenya 2.7 million people are facing severe food shortages.
In Ethiopia, a new food crisis has arisen as a result of drought. More than 5.6 million people are experiencing significant challenges accessing food. While this crisis directly affects children and their families, it is also destroying pastoralist.