World Vision (WV) is one of the key health and nutrition players in Ethiopia with programs contributing to the wellbeing of more than 3.5 million vulnerable children. WV implements Maternal, Newborn & Child Health, Nutrition and HIV programs with the Ministry of Health and other key stakeholders focusing on demand creation, and improving quality health services. Maternal, Newborn & Child Health and Nutrition issues can be attributed primarily to preventable causes that relate to poor maternal and child feeding and caring practices; inadequate utilization of simple cost effective and high impact interventions , inadequate nutrition, poor quality of health services and limited skills of health care providers.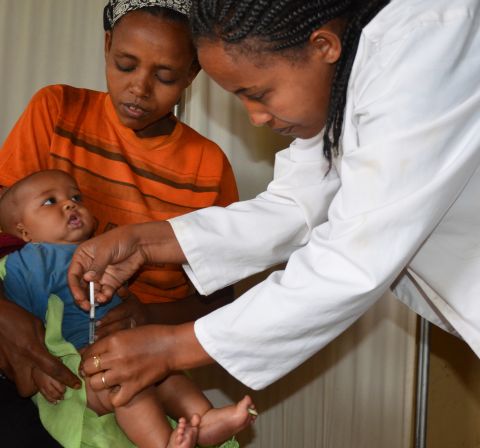 WHAT IS HAPPENING
Nationally, 40% of children under age five are stunted, and 18 percent of children are severely stunted. (MEDHS, 2014)
43 % of Ethiopian women do not receive any antenatal care. (MEDHS, 2014)
83.8% of births in Ethiopia did not take place in a health facility. (MEDHS, 2014)
Only 12% of women in Ethiopia received postnatal care within two days after delivery as recommended. (MEDHS, 2014)
GOAL
Improving the health and nutritional status of children, and pregnant and lactating women in WV's areas of operation, contributing to national efforts to reduce maternal and child mortality.
STRATEGIC FOCUS AREAS
Maternal, Newborn & Child Health (MNCH)
Improved service uptake
* Improved community MNCH practices and care seeking behaviours
* Support early detection of pregnancy and birth
* Increasing utilization of family planning services
Support to quality of services
* Basic/Comprehensive Emergency Obstetric and Newborn Cares
(BEmONC/CEmONC)
* Strengthened supervision and monitoring
* Uninterrupted supply of essential MNCH drugs and life saving commodities
Reduced disease burden and disability
* Prevention of Mother to Child Transmission (PMTCT)
* Malaria Prevention
* Identification, management and rehabilitation of fistula and uterine prolapse
Nutrition Program
* Integrated Food and Nutrition Programming
* Adolescent, Maternal Infant and Young Child Feeding (AMIYCF)
* Community Management of Acute Malnutrition (CMAM)
* PD Health
* Micronutrient and De worming
HIV/AIDS
* Integrated HIV specific intervention to reduce mother to child transmission
* Strengthened Community Response to HIV
WASH
* Improved Water Supply
* Improved Sanitation Services
* Improved Hygiene Practices
* Institutional WASH (for health facilities and schools)
MAKING A DIFFERENCE
Over the last ten years, World Vision Ethiopia (WVE) enhanced health service coverage
and utilization in rural Ethiopia:
• Constructed and equipped (1 Hospitals, 55 health centers, 257 health posts, 131 additional  maternity blocks);
• Renovated 11 health facilities;
• Provided basic emergency obstetrics equipment and supplies and essential drugs for760 health  facilities;
• Trained 9,451 health professionals on maternal, newborn, child health & nutrition issues;
• Trained 1,852,647 community members on IYCF practice, essential nutrition action and micro,  nutrient intake, OVC care and support, anti-natal care, post-natal care, family planning and  child health services utilization;
• De-worming and micronutrient, supplementation were made for more than 278,475 mothers and  children under five;
• Provided positive Deviant Hearth sessions for 11,896 malnourished children, pregnant and  lactating mothers with supplementary food;
• Distributed Insecticide-Treated Net for malaria control for more than 3,000,000 mothers and  children.
As a result:
* WVE impacted the lives of 4,555,800 mothers and under five children directly and 13,306,000
  community members indirectly.
* Over the past six years, sustainable water, sanitation and hygiene services provided to an    estimated 1,680,618 people.