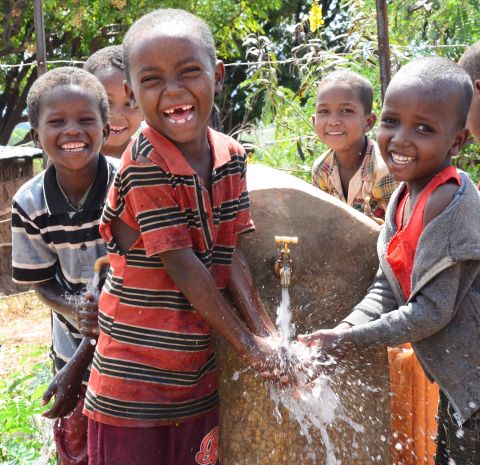 World Vision is committed to helping children enjoy life in all its fullness by working with families, communities, and partners and access to safe water, improved sanitation and hygiene practices form the first pillars towards health and wellbeing of children, their families, and the communities they live in. As such, World Vision believes that every child deserves safe water. Our community-based approach gives us deep roots in the community, while our more than 40-year history in Ethiopia gives us the longevity and experience to take quality and sustainable interventions to scale.
THE WASH CHALLENGES IN ETHIOPIA
• Nearly 39 million Ethiopians, most of them in the rural areas, do not have access to safe water supply
• Close to 48 million Ethiopians lack access to basic sanitation
• Diarrhea is the leading cause of under -5 mortality in Ethiopia, causing 23% of all under- 5 deaths    (73,341children per year).
• Poor sanitation, lack of access to clean water supply and inadequate personal hygiene are responsible for 90% of diarrheal disease occurrence.
• An estimated 64,540 children could be saved every year by improving Water, Sanitation, and Hygiene in the country.
WASH AT WORLD VISION ETHIOPIA
The WASH Program at WV Ethiopia makes up one of the cornerstones of WV Ethiopia's national strategy and aims to reach beneficiaries with a holistic suite of WASH interventions, led by its mission; "Every child deserves safe water".
Strategic Focus Areas:
• Improved Water Supply
• Improved Sanitation Services
• Improved Hygiene Practices
• Strengthened WASH institutions
PROGRAM APPROACH
WVE uses different approaches based on global best practice, supported by WV International's global expertise in implementing WASH activities in a broad range of development and emergency context. The approaches are aligned with principles of WASH operations of the Government of Ethiopia and geared towards achieving international development commitments. Our works in provision of water supply and improving hygiene and sanitation take into account the following principles;
• Low-cost innovative solutions - No direct subsidies for household sanitation (demand driven)
• National standard of 15 liters of water per person per day at a distance of no more than 1.5 km/0.5km (Rural/Urban, respectively)
• Community-led Total Sanitation and Hygiene (CLTSH) as an approach to hygiene/sanitation promotion
• Institutional ventilated improved pit (VIP) latrines through public and Private sector involvement
TECHNOLOGY/ METHODOLOGY
Water Supply:
• Hand-dug wells with hand pumps
• Spring development (on-site/capping & development of gravity-fed storage & distribution systems)
• Shallow boreholes with handpumps
• Deep boreholes with electromechanical pumping, storage & distribution systems
• Rainwater harvesting
Hygiene/Sanitation:
• Community-Led Total Sanitation (CLTS)
• Schools WASH
• Public Hygiene & Sanitation
• Sanitation marketing
PROGRAM OUTPUTS & ACHIEVEMENTS
In the past six years alone (2011-2016), WVE has provided a little over two million people with safe drinking water, 1.9 million people with dignified sanitation and 1.8 million people with improved hygiene practices. World Vision Ethiopia implements its WASH programs in three major areas; Rural WASH, Urban WASH, and Emergency WASH Response. The program is implemented in an integrated manner in 53 area programs, funded through sponsorships and grants.
RURAL WASH
In the fiscal year 2016, we have reached 1,051, 662 people with access to safe drinking water and 522, 250 people have gained access to improved sanitation and additional 439,223 people are practicing healthy hygiene behaviors in rural WASH interventions.
URBAN WASH
The Urban WASH program that WVE undertakes in partnership with UNICEF, is implementing programs in eight towns across four regions focusing mainly on institutional WASH, capacity building of WASH service providers and partners, hygiene promotion and waste management. In 2016, close to 1000 people have taken part in the capacity building training, who will then strengthen their respective institutions and improve the urban WASH challenges. Open WASH modules were developed for TVET Colleges and training were also provided.
Development of manuals for health extension workers, training for private operators of waste management were also activities carried out successfully under this function. Waste master plans had also been developed for all the eight towns in the program.
EMERGENCY WASH
Drought Response:
World Vision is closely working with the government of Ethiopia and development partners in responding to the El-Nino induced drought in the country under its drought response emergency program.
Accordingly, WV Ethiopia has managed to raise over $ 41 million in terms of Cash and Food. Hence, WV Ethiopia has been responding to the situation in 28 drought-affected districts in four regions benefitting over 1.7 million people of which WASH taking the lion share. In FY16, WVE has reached a total of 494,532 drought affected people with safe water and 102,000 people with sanitation and 101,580 people with hygiene interventions.
Refugees WASH Response: The emergency WASH program is also responding to the needs at Gambella Refugee Camp undertaking sanitation and hygiene interventions. In the three-quarters of the fiscal year 2016, construction of household latrines and solid waste disposal pits, training on improved hygiene practices and environmental sanitations campaigns have been conducted, reaching close to 15,000 refugees.
FAST FORWARD:
At the end of 2017, World Vision Ethiopia's WASH interventions are planned to benefit additional 322,000 people with safe water, 285,500 with access to basic and improved sanitation facilities and 295,878 with hygiene behavior changing activities. contributing significantly to attain WVE vision, the country's GTP targets and the sustainable development goals on WASH.