world vision's Urban Evidence Base
In 2008, recognizing an organizational need to respond and adapt to the growing trend of urbanization, and its negative impact on the most vulnerable groups, especially children, World Vision launched an action-research and learning approach to investigate the relevance of its current development models and frameworks in urban settings. The learnings from this first phase is documented in the report 'Making Sense of the City: Developing evidence through action research and learning'.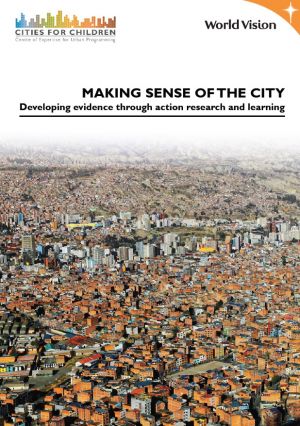 Citywide Self-Sustaining Model
We are launching World Vision's 'Citywide Self-Sustaining Model' - an integrated approach to urban programming that aims to maximize the organization's contribution to large scale, sustained impact in the lives of the most vulnerable children in urban areas.
The model leverages World Vision's global branding and local presence, with emphasis on scaling with and through partners, building coalitions for effective action, and influencing policy development and implementation. Find out more about the model.
Cities for Children Framework
'Cities for Children' is World Vision's emerging framework for addressing vulnerabilities in urban contexts. It is anchored in World Vision's child wellbeing aspirations and links with tested urban approaches developed by various UN agencies.
The Framework consists of four inter-related domains of change affecting child wellbeing in cities: health, safety, resilience and prosperity. Underpinning these domains is the enabling factor of advocacy to seek justice and inclusion of the most vulnerable through policy change. Find out more about this framework.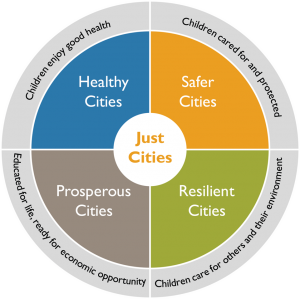 URBAN PROGRAMMES TEAM
Our vision is for World Vision to be a leading global partner addressing child wellbeing in urban contexts by contributing to safe, sustainable and just cities for children - especially the most vulnerable.
World Vision's global urban programmes team:
Provides leadership and strategic direction to World Vision's urban initiatives.
Develops urban programming approaches and scalable solutions with partners.
Promotes innovative and promising practices in urban contexts as a learning hub.
Advocates for justice and equity for the most vulnerable children.
Seeks partnerships to collaborate, strengthen and scale up urban programs, including academic partners for joint research and learning.
Contributes to global discourse and dialogue that shape urban policy and the implementation of the New Urban Agenda.