Active in Angola since 1989, World Vision Angola is currently undergoing an emergency response to alleviate the deepening food security crisis and save the lives of malnourished children under 5 in South West Angola.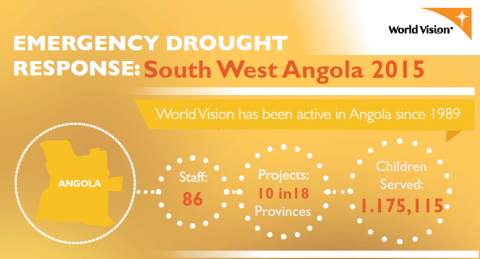 For more information, click here.
Nutrition Crisis 2012
In November 2012, World Vision Angola in partnership with UNICEF and the Government of Angola organized an advocacy meeting that brought together a group of community and religious leaders. The advocacy meeting was to sensitize the leaders on the looming nutrition crisis in 10 provinces in Angola.
The 10 provinces namely: Bengo, Benguela, Bie, Cunene, Huambo, Huila, Kwanza Sul, Namibe, Moxico and Zaire had been negatively impacted by last year's drought, according to an assessment carried out by various government line ministries.
The drought and its persistent conditions have aggravated the nutrition status of children, especially those below five years old.
Nadia Ferreira a Health and Nutrition expert from UNICEF said the nutrition situation was very dire in some of the above named provinces. "On various visits, we have witnessed some of the worst images of malnourished children," She pointed out.
Some areas have recorded some of the highest and worst malnutrition cases, Nadia said as she projected some of the shocking images UNICEF had witnessed during their visits.
She attributed the alarming malnutirtion cases to the existing drought conditions that had resulted to food unavailability, high food prices that had resulted to difficulty in accessing food, inadequate care for infants and children, poor feeding and weaning practices and the low education levels of the mothers.
During the meeting UNICEF also presented findings of a survey conducted in May. The findings estimated that 533, 405 children below five years were suffering from acute malnutrition in 10 provinces out of a total estimate of 3,339,589 children.
The Government represented by the Ministry of Health (MOH) also expressed deep concern over the rising malnutrition cases. The MOH gave an example of Huambo province where 18 out of every 100 children under 5 years, are malnourished, some of them severely malnourished, and require urgent attention to prevent death.
For this reason, World Vision is working on a nutrition education project to improve the nutrition status of children in Angola. With funding and support from UNICEF and ECHO (European Community Humanitarian Office) and the government, World Vision in collaboration with traditional authorities and civil society will be training about 2,000 Community Health Activists (CHAs). The CHAs will be trained to identify cases of malnutrition and guiding mothers on how to respond rapidly to prevent and treat acute malnutrition.
This project will cover six worst affected provinces that is: Bie, Benguela, Huambo, Huila, Kwanza Sul and Zaire. World Vision Director of Operations, Jonathan White said the nutrition education project will directly benefit 270,000 children below five years old and their caregivers ( 270,000 mothers-for one one mother one child). With special attention to pregnant and lactating mothers too.
Activities will focus on families in remote rural areas that are not currently being reached by existing rural health systems and also families who have been severely affected by drought. "Mothers of malnourished children and mothers in the target communities will benefit from increased awareness about best feeding practices for children," explains Jonathan.
The mobilization of religious organizations and traditional leaders have a critical role in enabling, encouraging and supporting the work of community health activists (CHAs), who will be charged with monthly screening of children below five years.
The CHAs will conduct screening by measuring the mid circumference of the upper arm of children known as MUAC measurement in nutrition terms. They will then refer children who need specialized attentions and care to the health facilities.
The CHAs will also conduct home visits, educating the mothers on how to best feed their children. They will also support the distribution of food supplements.
"With the support from all stakeholders, we are confident that efforts being made to prevent child malnutrition and deaths will be successful," said Jonathan White.